Customer Services
Our customer service reps have a combined total of 75 years in the printing industry. Seeing a printing job through to completion can be a difficult task. There are a number of choices to consider that will have a direct impact on the finished product in relation to cost and quality. Through communication with you the client, we can determine your needs and make suggestions that will streamline the process. Give us a call at 1-800-443-0377 or e-mail us at tnprinting@tnonline.com for a quote on your next printing project.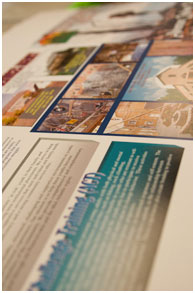 Graphic Design
The graphic design department at TN Printing will be glad to design your next printing project or just help you along. We are both Mac and PC based with a wide range of software that's updated regularly to accommodate your electronic files. Please contact us with any questions about layout, limitations, and preferred file formats. Or visit our Printing Tips & Tec page for more information.
You'll be glad you did!
Prepress
Here at TN Printing our digital prepress department is second to none. Our
Kodak Trendsetter News 150
computer to plate system allows us to work directly from your digital files through our
Prinergy Connect Workflow System
, enabling us to use staccato screening, automated trapping, web growth compensation, and automatic page imposition.
Digital Proofing
With our
Epson Stylus Pro 7800
combined with the
Prinergy Connect Workflow System
, we can guarantee what you see on the digital proof is what you'll get on the paper.
You have our word on it!
Capabilities
Here at TN Printing we offer you everything from soup to nuts!
Cold Set Web Printing
(Non - gloss newspapers, realtor magazines, auto locators, local event magazines, college newspapers, inserts, and circulars just to name a few) to our
Commercial Sheetfed division
offering you everything from single color business cards, NCR forms, envelopes, stationery, booklets, raffle tickets, case bound, perfect bound, or saddle stitched books , to...
Full Color
brochures, post cards, posters, rack cards, envelopes, books, or a combination of the two. Booklets or Mini Tabs printed on the web press (non-gloss) with a gloss cover affixed to it will give your web press produced product the punch it deserves!
Digital Printing
Need quick copies? Have a short run color brochure project? What about Variable Data Letters? Need a poster or a Banner? How about Signage or Trade Show Display? With our High Speed digital printing capabilities and our Wide format printing and laminating services, I'm sure we'll be able to help you out. Give us a call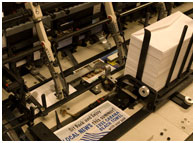 Inserting and Mailing
No Problem! We offer folding, wafer sealing, inkjet addressing, labeling, inserting, and mailing services through our CASS certified mailroom. We'll even handle the USPS paper work! Just visit our TN Printing equipment tab to see our mailroom specifications.
Delivery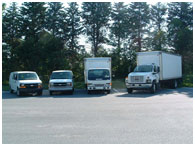 Not Even an Issue! With our courteous staff of couriers and delivery drivers, to our extensive fleet of cars, vans, and lift gate equipped trucks, delivery is never an issue! From Pennsylvania, New York, New Jersey, and Delaware to everywhere in between we have some of the most competitive delivery rates, and accommodating delivery schedules to be found. Further than that? Still not a problem! We utilize the best in shipping on a daily basis. So if you have to get your product shipped right next door, or clear across the country, we can help After all the "Customer Always Comes First"